Ok, so I'm not good at consistency, and it's been a while since my last Out of the Kitchen post. I have all of these ideas and no time! I finally got to do something crafty over the weekend. On Saturday I spent the day in West Marin with my duder and got to work on a craft project while he did some work for one of his clients. I love spending time in West Marin! Especially getting up for early morning walks in all the natural beauty there.
On my walk this last Saturday, I took Moose to see some sheep. He was both cautious and curious, but the sheep all came out to see him. They came right up to the fence, but Moose kept a pretty safe distance. He's truly a weenie.
After a super tasty breakfast at The Station House, we headed over to Kris's client, me with craft bag in hand. I got to peacefully work on this button headband while Moose slept on the floor next to me.
I've had this idea in my head for a quite a while, and I've been collecting buttons for it for a couple of months. I was so excited to finally work on it! I love anything with buttons.
I sewed the buttons onto a piece of elastic, after several rearrangements to find the grouping that I liked best.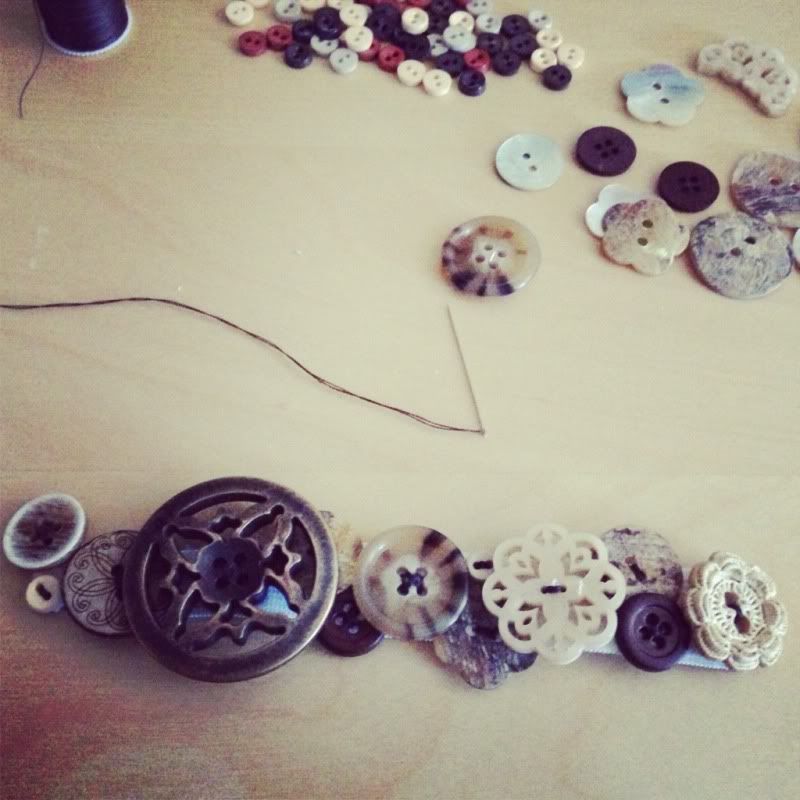 Sewing buttons is extremely relaxing, I find. Even though I did break one of my needles in the process and stabbed my thumb pretty good.
Then I trimmed up the elastic on the back so that there were no bits hanging out behind the buttons.
The next step was a simple hot gluing to a plain headband! Voila!
I love it! I can't wait to make more in different colors! If you see any good vintage buttons for sale, I would be stoked if you linked me to them :)
Yay crafts!