I have returned! Back to life, back to reality. Vegas was fun and tiring! I wish I could say that I was there to party, but I was actually there for a class. I'm taking an exam to get my PHR certification next month and there's so much to cram in my head! I did have evenings free, though. And I spent that time stuffing my face with all things that are good. I pretty much indulged myself every night with fine dining. My mom went along with me and we got to splurge together.
The second night we were there, we went to one of Emeril Lagasse's restaurants, Delmonico Steakhouse. The service was a bit awkward, although I think the intent was to be good. I ordered the rib eye and oh my dear sweet baby Jesus, it was sooooo good. Cooked perfectly, extremely flavorful and brilliantly seasoned. I couldn't finish it and I'm still regretting it.
Not the best photo, but it makes me drool nonetheless.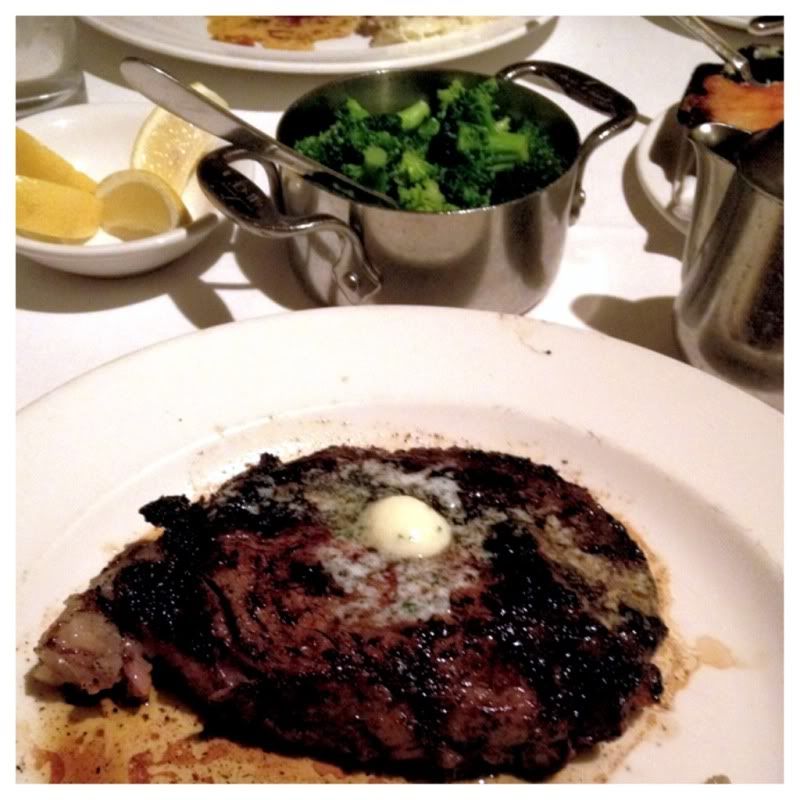 On Thursday we fell asleep in the room and decided to just skip going to get dinner, but before we napped, we stopped at this cute bakery in the hotel and browsed their adorable pastries. So much inspiration! They also had a really cool chocolate fountain (not a disgusting one that people actually dipped things into, it was behind glass). I had some mint chip gelato and it was just dandy.
On Friday night we went to a restaurant called Bartolotta. It's a really nice Italian seafood restaurant at the Wynn. This place was recommended to me by my boss and I'm glad it was because it was extremely delicious. We started out with a seared scallop appetizer. Probably the best scallop I've ever had in my life. I could have just eaten six of those and been happy. Then we had a seafood risotto with pieces of crab, lobster, scallop, clam and shrimp. Super flavorful and tasty, although a little more al dente than I prefer my risotto to be. We then shared a spiny lobster with this really awesome sauce made of garlic, pomini tomatoes, white wine, and peperoncino. I could have drank the sauce and skipped the lobster, it was that good.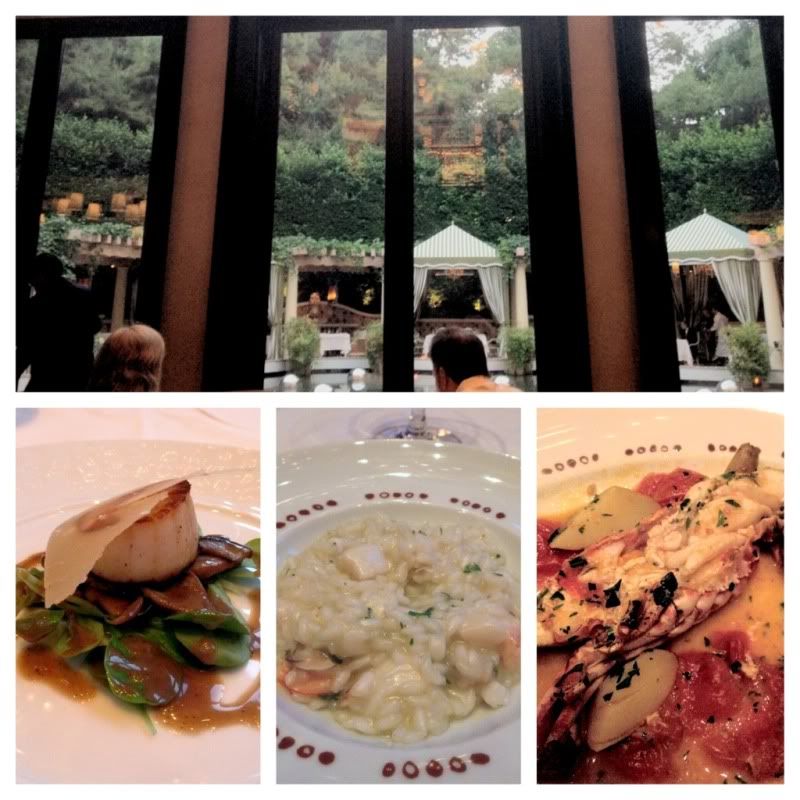 Saturday night was our biggest night. We had dinner reservations at Prime Steakhouse and then tickets to see O by Cirque du Soleil. This was probably the best restaurant experience that we had. The service was ridiculous and the food was unstoppable. We kind of went all out with this meal. We ordered an appetizer of bacon wrapped shrimp in this mustard, honey, cumin sauce. Holy mama, I want more of that. I didn't get a picture of that because we demolished the plate in about two minutes. Then I had a warm asparagus salad, yum! I pretty much love anything asparagus. After the salads, the serious food showed up. I had a duck breast l'orange AND a lobster tail. Eep! But it was so good!! The duck was amidst these little pillowy tufts of carrot and pear puree. I was able to keep from licking the plate, but just barely. My mom ordered the bone in filet (also with a lobster tail... hey it was go all out night) and she was also in pure heaven. We split sides of gratin potatoes, creamed spinach, and because our waiter convinced us, a second potato side called "crunchy potatoes". All yum yum yum. We skipped dessert because basically we didn't have anywhere in our bodies to fit it. And we had to get out of there to head to O. Which was mind-blowing, by the way.
On our last day, we figured we'd say goodbye in style, and we went to the number one rated brunch buffet in Vegas, the Sterling Brunch at Bally's. I've never seen anything like this buffet, and it was also the most expensive buffet I've ever seen. But it was probably worth it... it would have been more worth it if I had four stomachs and could have eaten more. This place had lobster tails, king crab legs, lamb chops, Chilean sea bass, filet in burgundy sauce, salmon wellington, oysters, shrimp, fresh made sushi, and plenty of other things that I can't remember, but were awesome I'm sure. I went for the lobster tail and lamb mostly. Because... lobster tail and lamb. I also had some baconey chivey mashed potatoes that were pretty bodacious.
So those were our food adventures. My stomach is pretty much growling now, as I finish this blog post. I've basically been eating salads and vegetables since we got back from our rich foods and meat tour, but damn was it good :)